Guadalupe Fire Department History
Volunteer Firefighters in 1930
Guadalupe Fire Department in 2016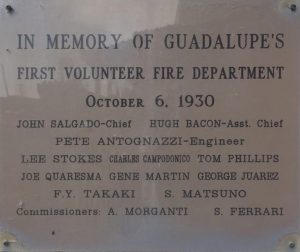 After devastating fires in 1925 and 1929 the Guadalupe Fire Department was officially formed as a volunteer force in 1930 to protect the community from further large scale incidents. A 1929 American LaFrance fire engine was purchased and remains with the department to this day; this engine is stored at fire station 1 (Unstaffed) and makes appearances at most l
It was from this location for many years a fire alarm was sounded from this station alerting the Firefighters in town to respond to an emergency. Since then, Guadalupe Fire Department has adopted quicker and more complex notification systems involving radio communications to CAD applications.
The Guadalupe Fire Department has since then provided fire protection, emergency medical services, rescue, and specialty services from fire station 2 which is located at City Hall, 918 Obispo St. Guadalupe, Ca.
Guadalupe Fire Department response covers a first due area of approximately 1.4 square miles from a single fire station. Covering a year round population of over 8,000 citizens, this number will continue to grow as a large housing development called Pasadera has been approved by the City of Guadalupe and is about halfway through the projected total of 800 new homes.
Guadalupe City has a coastal dune area, historic architecture and a scenic highway (Highway 1) that is a tourist draw. Guadalupe City located in northern Santa Barbara County on the central coast of California, USA.
The fire department also provides automatic aid to the surrounding areas, which include protected marshes, and forty three square miles of rural/agricultural areas. The department has automatic aid agreements to protect portions of Santa Barbara County, and San Luis Obispo County. The department provides structural fire, wildland fire, rescue, basic life support, hazmat and technical rescue services.